Story:
Shortfundly was founded by Mr.Selvam Muniyadi in 2015. With over 11 years of experience in multi-screen video advertising, Mr.Selvam began this organization to nurture aspiring filmmakers. He wanted the filmmakers to gain the recognition that they deserve. Mr. Selvam and the cofounder Mr. Selvammyume Maharajan share the same ideologies towards shaping this organization to what it is today.
Goal:
The main aim of this organization is to nurture and help in the development of young and aspiring filmmakers. And also to facilitate engagement of filmmakers in social media. They provide the right platform on which you can build your short films. The main target audience is Indian Users, and the firm is designated in such a way to enhance the target audience.
From reviewing your films to helping to screen them in film festivals the carry out all the necessary things required to showcase your short film to a bigger space. Promotions are carried out in all the possible mediums available to date. There is a separate team to view and write reviews of short films, for both promotional and quality purposes. With talented and skilled distractors its time that cinema has a new phase of development.
Strategy:
The primary motive is to fetch the promotion values at a minimal price so as to encourage aspiring filmmakers to achieve their goals.
To maintain this set of ground values on the web page, Shortfundly has laid a few important strategies to execute the former goal.
Cost- Effective packages
Engaging poster
Effective social media sites.
No redirection web pages
In executing this basic goal, Shortfundly makes sure that you are benefited with reasonable subscription packages. All the Shortfundly packages are designed in a way to facilitate practicable price to the filmmaker as well as the movie buffs.
Shortfundly uses various engaging posters for promotion purposes of your short film. Marketing communication to promote a movie has various protocols, but this method is very effective in changing the attitude of the movie among the audience. Since the rise of the cinema industry, this technique has gathered a specific decent number of audience. Shortfundly has made use of this practice to make short films to be promoted in an effective manner.
Effective social media sites.
In order to promote a short film, Shortfundly processes short video posters among its social media sites like Facebook, Twitter, and Instagram. The Film link will be shared in Shortfundly social channels like FB fan Page has almost 35,000+ followers & WhatsApp groups to intensify worthwhile promotion to the short film. The probability of being checked in these platforms is preferably higher, thereby the movie gets promoted effectively.
Apart from social media sites, Shortfundly make use of review articles to promote your short film. The short film review gives extra attention by making the user lesser effort. The user will face a discrepancy when he is redirected to a different page for viewing the video after reading the review of the short film. This increases a customer's effort to get back to the review page. Shortfundly gives your audience no redirection while reading your short film review.
Result:
Hard work always pays off. Especially in a field like this always a lot of efforts put in to promote short films to the global audience, we achieved new feats among all our social media platforms. To state an example here, we would like to show you the results of one of our recent promotions for the short film ANAMIKA. The post over all the social media platforms reached new heights enabling the viral spread of the movie in no time. Being active in all social media platforms has helped us to achieve such feats.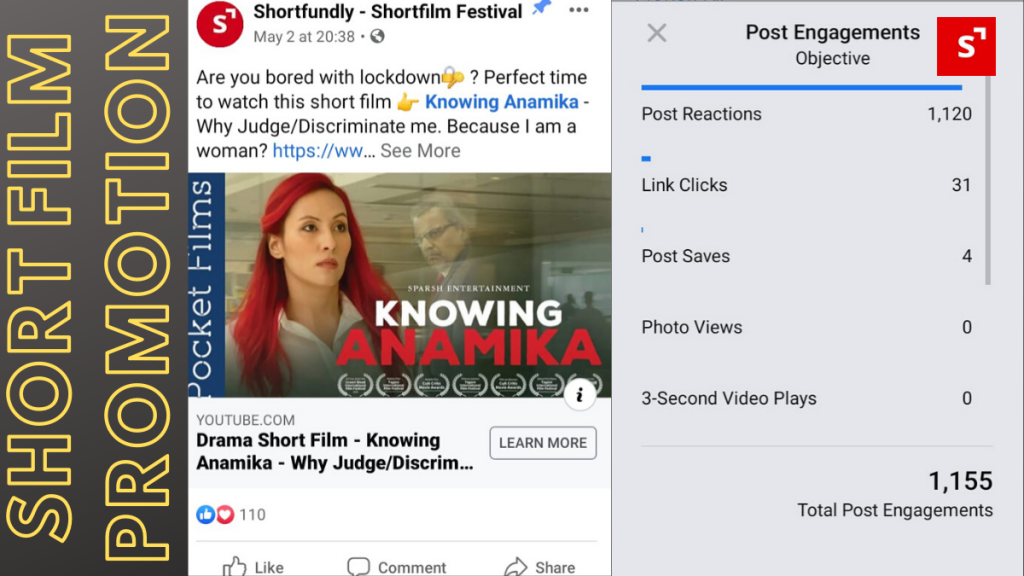 About Shortfundly
Shortfundly is an online media company that curates and shares the best short films and stories from India through our global multi-platform network. Our video and editorial platform enable a global audience to easily discover, watch and share unique stories from India anywhere on their desktop and mobile devices.
Our vision is to continually grow the community of short film audiences to enable a wide and accessible market reach for short films and become the leading micro-cinema/short film platform for India.