Storyline:
Ego, misunderstandings and lack of trust are the major reasons for failure of any relationship. "Ennai vitu pogathey" is the love story of yoga and priya ending up in a breakup and the consequent events. The storyline may look very common but the way the team delivered the short film makes it a success. The short film deals not only with love but it has also given the bond between friends and their betrayal equal importance. This storyline stands away from the mark of a well-known love story by focusing upon post breakup than taking up the usual track of a cheesy love tale ending with breakup.
Direction:
Direction has a very large part in the success of a short film. It lies upon the direction team to convey a storyline effectively. Finding love after a breakup is absolutely fine but getting into relationship with another relationship without even being sure in the decision of breaking up with the person has all changes of landing us into trouble. The short film has well brought out this point to the audience. This short film conveys the fact that discussing our problems with the concerned person and giving it enough time will prevent us from pain and regret in the future.
Dialogue:
The way one expresses a dialogue is important. The understanding of the listener depends on how well we express it. With apt dialogues especially the intriguing dialogues conveys the emotions of more efficiently. Beautiful performance from the short film adds strength to the short film. A more timely dubbing at certain scenes could have made the short film more beautiful. Subtitles could have made it more convenient for non-tamil viewers.
Screenplay:
Apart from direction, brilliant screenplay and cinematography has played a major role in the short film. Though the short film looks messy and unclear in the beginning, the beauty of it unravels as the story progresses and this makes the audience curious and engaged throughout the short film. The climax of the short film emphasising that not all broken trust and relationships can be regained teaches us a strong message, that is think thoroughly and more than once before making a decision.
Yennai Vittu Pogathey – Tamil Short film Posters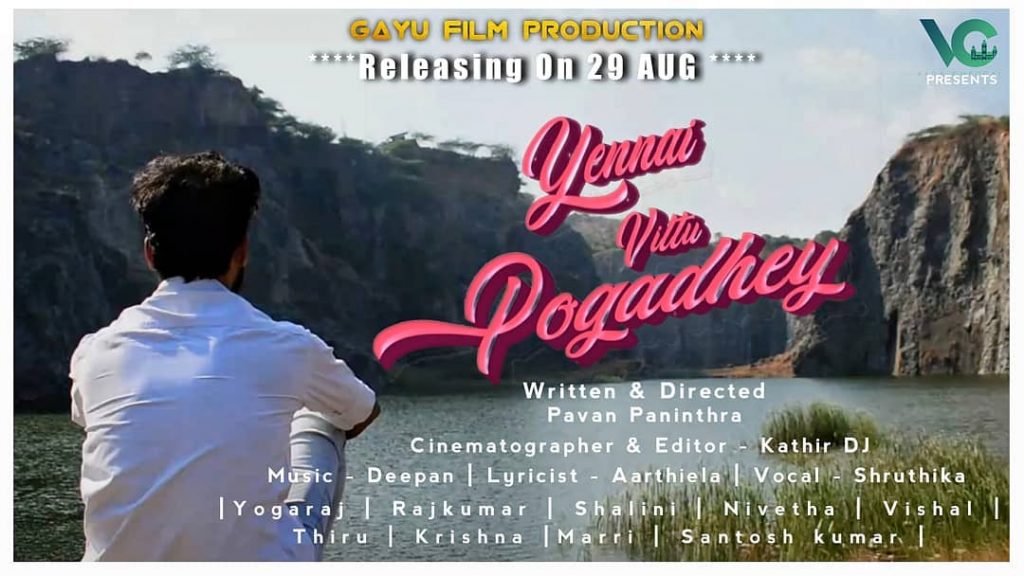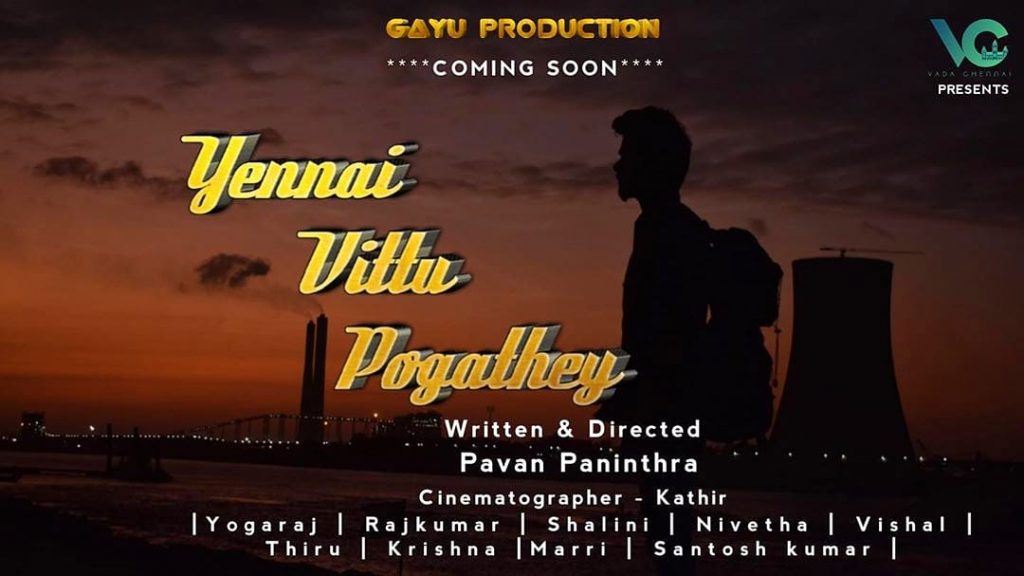 Yennai Vittu Pogathey – Tamil Short film Team Details:
Directed by pavan paninthra
Cinematography & editing
Kathir DJ
Vocal cover & music compose by
Shruthika & deepan
Lyricist
Aarthiela
Dubbing Artist
Nithiya
Shruthika
yagav
Recording
Rapix studio
CAST:
Yogaraj
Shalni saravanan
Raj Kumar
Nivetha
Krishna moorthi
Marri
Vishal
Thiru
Santosh kumar.B
Yagav
Banu
---
Watch Yennai Vittu Pogathey Trailer now, before watch original film.
Rating:
Overall Rating – 4.1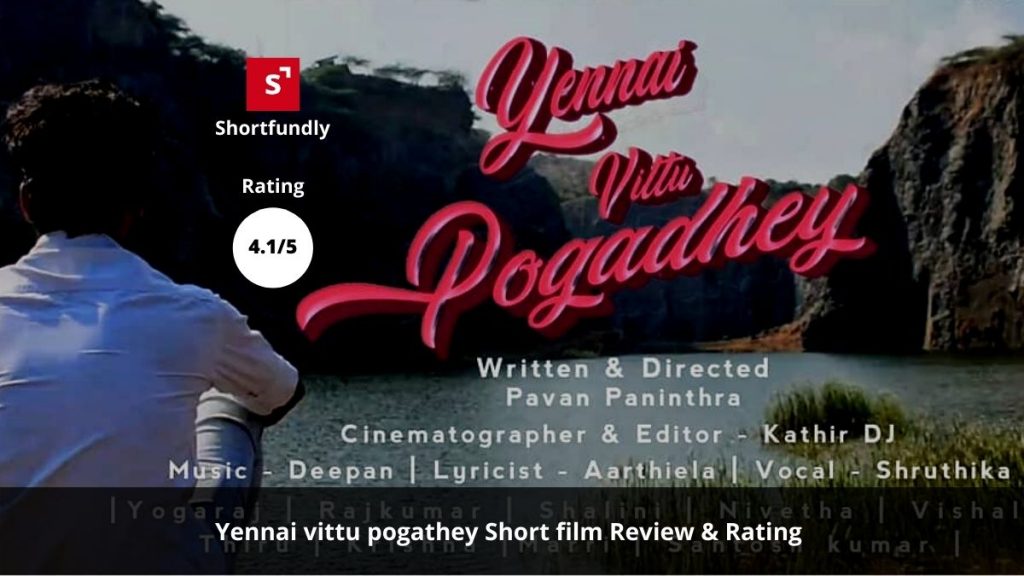 1 star for direction
1 star for screenplay
0.6 star for cinematography
1 star for effort
0.5 star for plot twist
Want to review for your short film? Reach out shortfundly team. You will get a PAID short film review and FREE promotion from them.
Watch this short film now!
To get all short film updates from this team, subscribe to vadachennai youtube channel.
Addon:
Watch Yennai Vittu Pogathey – Lyrical video song
Read Latest short film reviews from shortfundly
---
About Shortfundly
Shortfundly is an online technology and design-focused, data-driven platform company that curates and shares the best short films and stories through our global multi-platform network. Our video and editorial platform enables a global audience to easily discover, watch, and share unique stories anywhere on their desktop and mobile devices.
Our vision is to continually grow the community of short film audiences to enable a wide and accessible market reach for short films and become the leading micro-cinema/short film platform.
Please visit http://www.shortfundly.com to learn more about us