Storyline:
In the present India privatization is taking its toll gradually on all government-run organizations. It's not only the fault of our government as it all started when citizens started convincing themselves that private organizations like schools, but rations are also better than government organizations. Edhu thevaiyo adhuve dharmam too revolves around Kumar who's attempts have the ultimate aim of admitting his son into a private school so that he would have a better future by not studying in a private school. The lead actor possessing the style of famous actor Vijay sethupathy has a great part in conveying the storyline effectively. The short film has also conveyed the fact that parents always strive hard to give their children the best in everything no matter how tough it is for them to afford it.
Direction:
The success of any storyline lies in the hands of the direction. A strong storyline has every chance of failing in a poor direction. The aim of the short film is to deliver the point that government schools too offer good education and it's not necessary for a child to study in a private organization to be successful in life. It may look easy to convey but the difficulty is many people fail to understand and accept it. The direction has conveyed his point strongly with his nail-biting direction. Excellent cinematographers too have an important role in the success of this short film.
Dialogues are a mode of conveying our thoughts and apt dialogues are a huge strength to a short film. In this short film, the little boy Vishal's dialogue is the key to the entire short film and all the events are an outcome of his dialogue. In this case, dialogues need to be more powerful and impactful than in other cases and undoubtedly dialogues of this short film have all the attributes it requires. Dialogue delivery is another factor that contributes to the success of this short film.
Screenplay:
Keeping the audience curious throughout the entire short film and unexpected turn of events makes a short film success. A short film's storyline tends to have a huge impact on viewers due to a good screenplay. The short film's title itself has a deep meaning that has succeeded in creating awareness on the quality of education provided in government schools and succeeding in life doesn't depend on the institution we are in. The short film wins the viewer's hearts with its thought-provoking storyline and gripping screenplay.
Edhu Thevaiyo Adhuve Dharmam tamil short film posters:
Rating:
1 star for story
1.5stars for cinematography
0.5 star for plot twist
1 star for effort
0.3 star for screenplay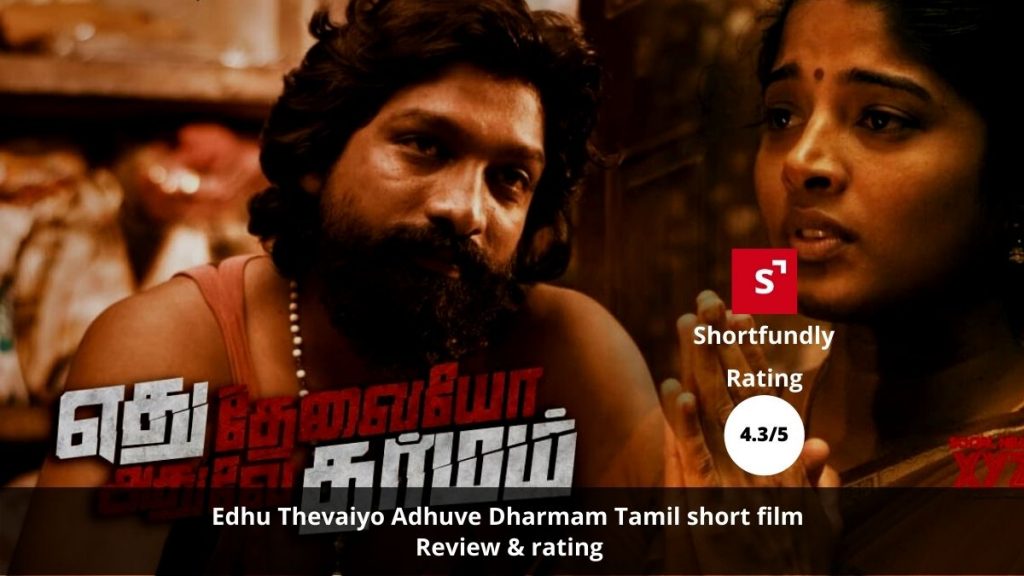 Overall 4.3/5 rating for this short film
Watch this short film now!
This Post Credits goes to:
https://instagram.com/_.inithya._?igshid=163ockzjwgeoo
https://instagram.com/archu01?igshid=11ksx95tgyhe8
https://instagram.com/dhivya_manick?igshid=1xst6cakpl691
If you want to review for your short film, reach out shortfundly team. You will get a PAID short film review and FREE promotion from them.
Also read latest short film reviews from shortfundly team:
About Shortfundly
Shortfundly is an online technology and design-focused, data-driven platform company that curates and shares the best short films and stories through our global multi-platform network. Our video and editorial platform enables a global audience to easily discover, watch, and share unique stories anywhere on their desktop and mobile devices.
Our vision is to continually grow the community of short film audiences to enable a wide and accessible market reach for short films and become the leading micro-cinema/short film platform.
Please visit http://www.shortfundly.com to learn more about us