Storyline:
Anger and regret are far more connected than we think they are. We often tend to take wrong decisions in anger and regretting it later doesn't make it any better. Sorry aadhya is a failed love story of aravind and aadhya leaving them regretting their breakup and their desire to apologize for it . A proper job, salary, caste etc gains more importance in love and troubles it us only when it comes to marrying our love and leads to breakup in most cases. Most breakups occur not because they don't love their partner anymore but due to the clash between passion and the hurry to settle down and earn a regular salary. A bit of patience would easily solve it but many fail to it and that's what this short film too aims to convey.
Direction:
Direction has a huge role in making this short film a success and storyline of the short film being a breakup and the circumstances leading to it being highly real and well-known it relies more on the direction than usual to make the audience love the short film. In reality we can come across many authors making their own story as a novel be it love or some other incident. Though this point being well-known as the story line showing Aravind as a author, writing his own love story as a novel and making it as a start for the narration goes well for this short film and makes it more realistic.
Dialogue:
Dialogues are a mode conveying the character's emotions and delivering the storyline efficiently. In this short film, featuring Aravind as a writer and the short film having scenes where Aravind writes his story as a novel, his dialogues needs to have basic attributes a author has in reality and the short film has managed to make sure this point is followed till the end. Aravind and aadhya's dialogues have the bitterness and regret it should have wherever it is needed.
Screenplay:
A good screenplay keeps the viewers engaged till the end of the short film and ensures the storyline is delivered without breaking the flow. In this case the short film itself gives us the hint that the story is all about meeting aadhya but, not makes the audience look forward to the same. Though both Aravind and aadhya regret their decision and feel the need to apologize, the short film gets the name of the female lead only because the tale is shown to us from the male lead's point of view.
Cast & Crew Details:
Casting : Vamsi Krishna,Bhavya Thrimurthulu,Sripada Sankara Rao,Durga Prasad
Music: Pvr raja
Dialogues: Kranthi Chaithanya
Publicity Designs: Shahid
Dubbing: Ncs Raju (Rajendra Digitals)
Editor & Producer: Srikanth Penugonda
DOP – Written – Directed by Chaitanya Dbsg
YouTube : http://www.youtube.com/c/PSKProductionsSC
Facebook Profile : https://www.facebook.com/PSK.Shortfilms
Page : https://www.facebook.com/psk.filmproductions/
Twitter : https://twitter.com/psk_productions
Instagram : https://www.instagram.com/psk_shortfilms/
Social Profiles of this filmmaking team:
https://www.facebook.com/raghu.krishna.566
https://www.facebook.com/profile.php?id=100010942595407
https://www.facebook.com/sripada.sankararao
https://www.facebook.com/profile.php?id=100053022233957
https://www.facebook.com/penumatsa.venkat
https://www.facebook.com/kranthi.chaithanya.397
https://www.facebook.com/rajendra.namburi.1
https://www.facebook.com/sri111994
https://www.facebook.com/chaitub4u.1131
https://www.facebook.com/Shahidis4u
SorryAadhya – Latest Telugu short film Release posters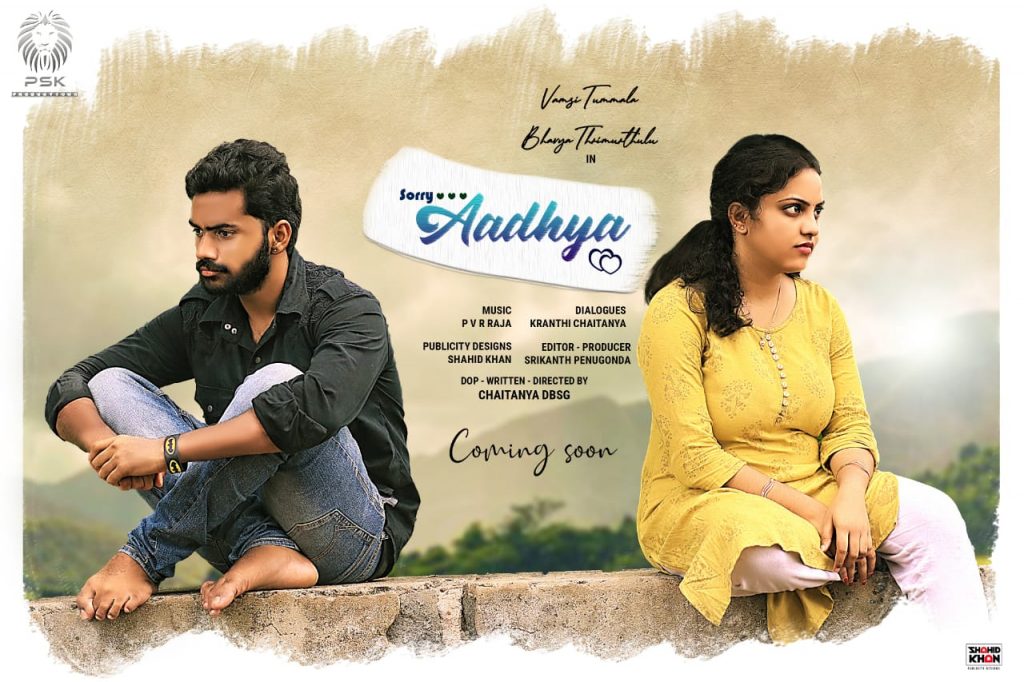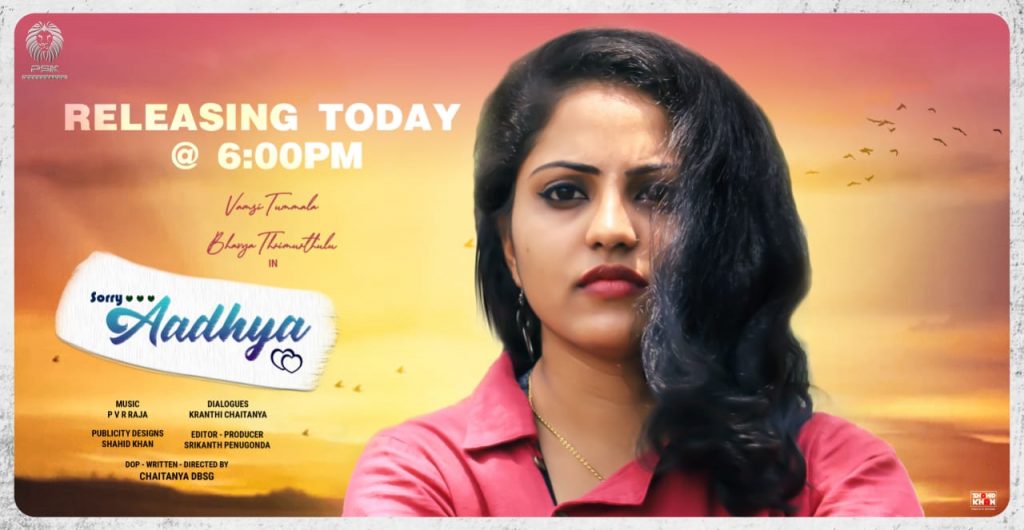 Rating:
0.5 star for storyline
1 star for direction
1 star for screenplay
0.7 star for background score
1 star for effort
0.2 star for plot twist
The overall rating is 4.4/5
Want to review for your short film? Reach out shortfundly team. You will get a PAID short film review and FREE promotion from them.
Watch this short film now!
---
Also read latest short film reviews from shortfundly team:
---
About Shortfundly
Shortfundly is an online technology and design-focused, data-driven platform company that curates and shares the best short films and stories through our global multi-platform network. Our video and editorial platform enables a global audience to easily discover, watch, and share unique stories anywhere on their desktop and mobile devices.
Our vision is to continually grow the community of short film audiences to enable a wide and accessible market reach for short films and become the leading micro-cinema/short film platform.
Please visit http://www.shortfundly.com to learn more about us
Also check our latest short film reviews
Maatram -Tamil Short Film –https://blog.shortfundly.com/shortfilm-review/maatram-tamil-short-film-review-rating-3-9-5/
Edhu Thevaiyo Adhuve Dharmam – Tamil short film-https://blog.shortfundly.com/shortfilm-review/edhu-thevaiyo-adhuve-dharmam-tamil-short-film-review-rating-4-3-5/
Kadhal Ondru Kanden| Tamil short film- https://blog.shortfundly.com/shortfilm-review/kadhal-ondru-kanden-tamil-short-film-review/