The content is the only hunger in the viewers now, after the bust of nepotism based "mafias" were uncovered, people started understanding the importance of content rather than paid popularity and fake sugar-coated lifestyle shown forcefully to manipulate public perceptions. YouTube as a platform is giving birth to more content-driven healthy competition amongst creators. Where we see new content creators actually making it a tough choice for the viewers! And we at SHORTFUNDLYTM have already taken an oath to keep you updated with content-driven movies and short films!
Coming to the short film, have you ever wondered a life in a very backward village? Peace everywhere, and a phase of life, it's definition is infinite peace called "childhood". It is a story of a girl, living in an economically deprived household with her mother who weaves clothes for survival and lives in the backward village of Assam. Innocence, sweetness, calmness just these words relating to positivity will come uttering out your mouth when you see the girl innocently playing all day, enjoying nature! Hats-off to the director of this short film, who has chosen a very peaceful location to shoot. Really, the natural beauty you will see in this short film will calm you down and will make you enjoy the story. As a viewer, you will experience heaven on earth, as you will be watching a child's vision to her life. You will start living the moment as if you are in your own childhood experiencing the same!
The bond the girl and her mother share is the loveliest scene you will experience. The bond they share is pure, serene. You will be forced to just smile out watching the kid doing her things. Her curiosity towards nature is endless, she is enjoying to her fullest all time! The moment when her mother takes a candle and makes her study is the most motivating moment! Her child is deaf, and she can still work it out and teach her! Mothers, the inspiration! The honesty and the modesty of the story will make you calm and silent, if you fully concentrate, it will not let you bring any thoughts in your mind, because you are living the moments within the short film!
The cast must be highly appreciated for their performance and especially the child artist has done a commendable job and made it possible to make the short film touch the hearts of viewers without even a minor miss! The director created an environment for us to calm down during the short film, by showing the natural beauty of Assam and really made a masterpiece out of what least of the resources they had. Bollywood should learn, the Silent River Productions just had its debut, with such a sweet bond of the child with nature neglecting her disabilities and the bond between the mother and her daughter.
We also would like to share this lovely, pure, and serene bond between mother and daughter, living in the real heaven, the beautiful village in Assam!
Now it's time for the SHORTFUNDLYTM report card!
This is a debut short film by Silent River Productions.
Silent chirping Short film Posters:
Advantages:
The story is really a heart-melting one.
A virtual contact with nature via this short film, calming the viewers, and well engaging as well.
Cast has done a commendable job.
Really good direction work.
Immense cuteness and innocence of the child actor shown, which is the soul of this short film, makes viewers feel good and develops her character very well as a deaf girl.
Area for improvement:
Voices of water running could have been more improvised, along with other natural voices.
At some times the view becomes darker to watch nearly nothing is visible at some point when taking a night scene, other than just one scene which is justified.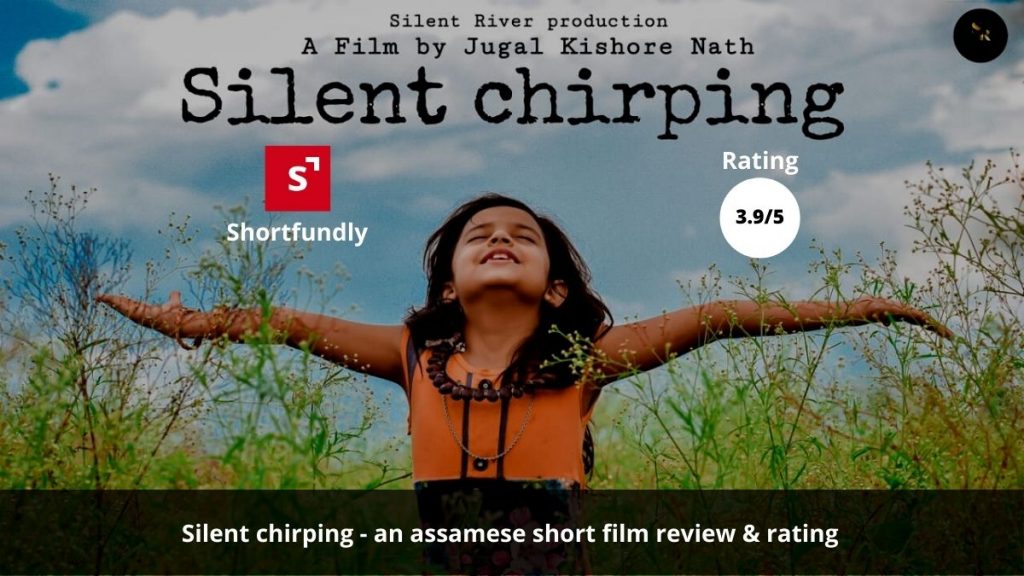 If you want to review for your short film, reach out shortfundly team. You will get a PAID short film review and FREE promotion from them.
The final rating for the short film: 3.9/5
---
Also read latest short film reviews from shortfundly team:
---
About Shortfundly
Shortfundly is an online technology and design-focused, data-driven platform company that curates and shares the best short films and stories through our global multi-platform network. Our video and editorial platform enables a global audience to easily discover, watch, and share unique stories anywhere on their desktop and mobile devices.
Our vision is to continually grow the community of short film audiences to enable a wide and accessible market reach for short films and become the leading micro-cinema/short film platform.
Please visit http://www.shortfundly.com to learn more about us