Since the emerging sector of cinema in our country, India has been noticed to show a great profit zone for investors, distributors, cinema theatre owners. But due to recent times in this lockdown, we have seen a great fall in the number of footsteps into cinema halls and instead of the emerging of OTT platforms as an alternative to cinema halls while at home in the lockdown or in quarantine. The platforms like Netflix, Amazon Prime, Disney+ Hotstar, ZEE5, etc. have noticed a sudden increase in their subscription purchases since the lockdown was imposed in the countries around the world, but specifically, in India, the subscriber base has increased to a great number over these online platforms.
Now anyone may wonder, what about the theatres then? If we can sit at home and watch a movie instead of buying a pricey ticket and buy beverages and snacks ranging a sky-high price list. The urge to gain heavy profits by the cinema theatres has now been completely countered by OTT platforms these days, where people have now actually started to realize that the cinema theatres are not necessary to visit places, but also there is some majority in the metro cities who think the opposite. They are right as well, some people don't have any other alternative other than cinema theatres, which may be from lower-class people, as we should see both sides of a coin, involving the average common man in India, the cinema is his leisure time. Not everyone is as privileged to watch the movies in the cinema theatre at a highly variable cost of tickets from theatre to theatre. So, OTT platforms have emerged to be a cheaper alternative after Disney+ Hotstar, Netflix, and Amazon Prime started selling subscriptions per annum at an affordable-prices or adding plans which were pocket friendly for a common man but having a fixed duration for the subscription validity.
Now, when it comes to launching a movie over an OTT platform, it may involve releasing movies on YouTube as well since it is the base for any platform-based content, from its releasing to advertising, etc. The latest movie of the late Irrfan khan, titled "Angrezi Medium", was unable to perform its business that well in the cinema halls, due to pandemic on the rise during the release period of the movie, during March. So, it was launched on the online platform of Disney+ Hotstar, where it received a very overwhelming response from the viewers and was highly appreciated. So, by taking this example we can say that this movie was made to reach the public and got appreciation as well, along with a satisfactory business collection over time. 
Sponsored Post:
A new movie to be released on 12th July 2020- titled "Gulabo-Sitabo" is about to be launched over Amazon prime Video platform which will be a historic decision in the Bollywood, but on the other side producers of this movie have been facing criticism by the cinema theatre-chain owners like the PVR, INOX, etc., for this decision of its online release, since the cinema chain companies have been facing a huge crash in their market values all around the world, but the OTT platforms have got a great chance to have enhanced market share especially in India which is potentially a massive market for these OTT platforms.
Release of Bollywood movies over online platforms instead of cinemas will be a good factor if analyzed, because,
It will be cheaper, averting the high prices of cinema hall tickets.
It will allow us to watch the movie at our own comfort.
It will be accessible on-demand and downloadable whenever required.
It can help to avoid using vehicles to travel long for cinema halls and avoiding crowds near cinema halls until this coronavirus pandemic has its effect.
The Bollywood industry has an opportunity to generate an income, encouraging to release more movies over OTT platforms.
Remember, I mentioned "we need to see both the sides of a coin!", the releasing movies over OTT platforms has its own disadvantages as well, like:
Immediately leaking of movies over torrent websites.
Making people lazy (in the future).
Currently, devastating the cinema theatre sector in the short term.
If a person is once addicted, it will be very difficult to leave the habit of accessing the OTT platforms, which means the person will have a varying and instantly changing tastes for entertainment, since "change is the new constant", which will eventually remain for short term and forcing himself/herself to scroll up and down the platforms to find content all day.
Causing mass unemployment, in the cinema theatres all around the country, especially in metro cities.
So, the end result can not be concluded so easily, we need to still analyze the future of OTT platforms and it is still a very new concept to the majority part of the Indian population and still has to be practically observed more based on the results in reality and not theoretically. Because it has involved the disadvantage of mass unemployment, which needs to be tackled and must be taken into consideration.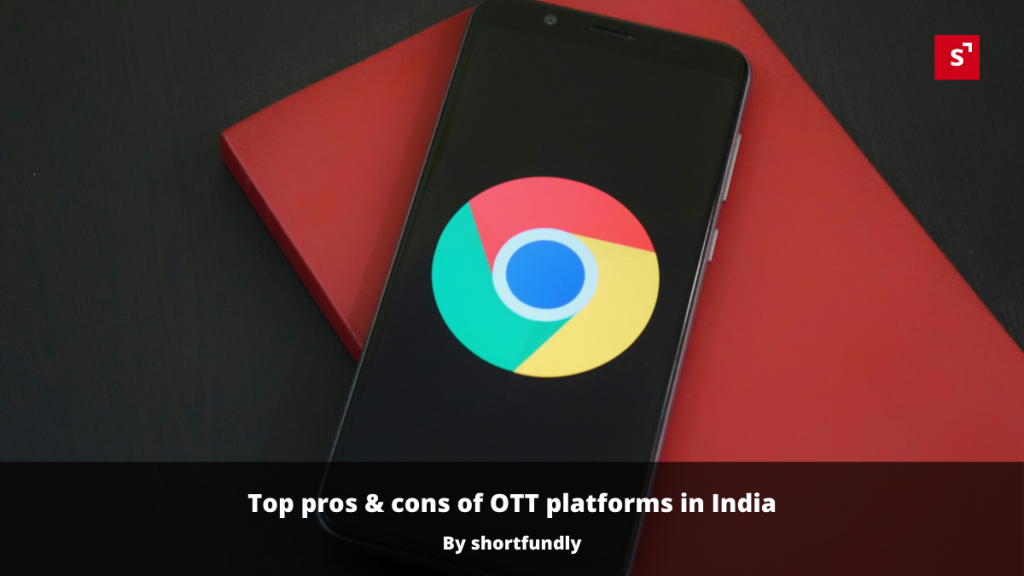 ---
Latest posts from Shortfundly:
---
About Shortfundly
Shortfundly is an online media company that curates and shares the best short films and stories from India through our global multi-platform network. Our video and editorial platform enable a global audience to easily discover, watch and share unique stories from India anywhere on their desktop and mobile devices.
Our vision is to continually grow the community of short film audiences to enable a wide and accessible market reach for short films and become the leading micro-cinema/short film platform for India.
(Visited 1 times, 1 visits today)