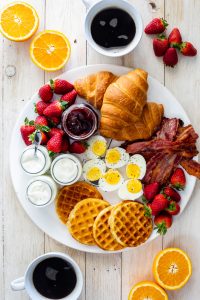 The topic for today is super-helpful five healthy breakfast ideas you must add to your breakfast table.
Life has become busy and so are we. No one has got enough time to do random stuff. However, this statement is also true for our daily morning routine. As you say "Bhaag daud bhari zindagi, thakna mana hai". This line depicts so much. Today, everyone is running towards career and success. People skip their breakfasts, eat some crap, and don't pay attention to their health. Sometimes, the reason would be running out of time, and sometimes this apathetic feeling of not cooking as it takes too much time.
Well, whatever the reason may be consequences you all know. Today, the number of people suffering from health-related issues has increased enormously. Diseases like Diabetes, PCOD, Cholesterol, and Thyroid are at their peak. Hmm, I know situations are not good but what can we do. No, it isn't like that. We can do something, we can change this trend. And so I present before you some quick and easy healthy breakfast ideas you can try. Of course, it's gonna be yummy.
Banana Chia Seeds Pudding with Peanut Butter and toppings
This is quite one of my fav recipes as it is super easy and the best thing about it you can prepare it one night before. So here we go.
Take some chia seeds and milk in a jar. Add some peanut butter to it (one or two scoops as you like). Take one medium-sized banana and mash it using a fork and put it too in the mixture. Now, blend the mixture in a blender. You can add few drops of honey if you want. Take out the mixture and keep it the refrigerator for a night. Go and have a sound sleep. Heyy good morning, time for breakfast. Take out the pudding and eat it. You can add some banana and strawberry toppings too if you want.
This recipe is full of nutrition like protein, good carbs, fats, vitamins. It will give you a great start for the whole day. Also, people who want to lose their weight or if have a disease like blood pressure problems, diabetes, they must try this healthy breakfast idea.
Savoury Healthy Sandwich
If you are a sandwich lover this recipe is for you!!!!
Take two slices of wholegrain bread (or any gluten-free or fiber-rich bread). Spread some Tahini over it. Top it with some slices of cucumber and tomatoes. Sprinkle some pepper and sea-salt over it. And it's done. You are good to go. Light, easy, quick, and rich of fiber, a great Healthy Breakfast sandwich choice.
Super delicious Yogurt and Oats Porridge
Take some oats and add a pinch of brown sugar or honey, and cinnamon into it. Pour sweetened milk (or milk) into it. Leave it for 2 minutes. For making it creamier, add 2-3 spoons of yogurt in it. You can top it up with apple cubes and blueberries. Also, add one teaspoon of peanut butter for serving and its ready, so quick right. This meal is a rich source for all those diabetics and blood pressure victims. It is good for your appetite too.
Berry Yogurt Smoothie
Take some berries like blueberries, raspberries, cranberries in a mixer jar. Add 2 spoons of yogurt and 2 spoons of oats to it. Take 1 spoon of honey too. Add water accordingly and make a smoothie. Take out the smoothie in a glass and pinch some coconut sprinkles over it. And here is your Healthy smoothie for breakfast madame.
Bell pepper and Carrot Eggs
Take a pan and add about 1 tablespoon of olive oil. Add two chopped carrots and half of the chopped red bell pepper. Stir it for two minutes then, add chopped onions in it. Let it cook for 2 minutes, getting a beautiful texture right. Now make two small pouch-like spaces in it for our eggs. Add eggs in the space. Let it cook until the egg hasn't half-boiled. Take it out and serve it. Your vibrant Healthy breakfast is ready.
Do you have any ideas for Healthy Breakfast ? Share with me on our Facebook page of Shortfundly.
https://Facebook/ShortfilmPromotion
Do check out our blogs for creative side
India's Obsession with grades :- https://blog.shortfundly.com/education-and-success/indias-obsession-with-grades/
Life saving DIY hacks :- https://blog.shortfundly.com/creative-side/easy-life-saving-diy-hacks/