Hi,
We are filmmakers community platform plan to celebrate this year 2020 world theatre day in creative ways.
5 Reasons to celebrate world theatre day:
If you are a movie theatre addict, definitely no words to speak about your experience of watching cinema on the big screen.
As a fanboy of Amitabh Bachchan or Rajnikanth or Jackie chan Or tom cruise, No one stops you to watch your favorite hero in theatre screen and celebrate those fan moments.
The first day, first show moments – No one forgets it. Watching in a really big crowd with big applause.
100th day of celebration of your favorite hero on a big screen with your fans.
Another good reason, watch movies in 3D experience with popcorn.
Every year, we celebrate World Theatre Day on March 27. Why is World Theatre Day celebrated is a big question, and very few people know about it?
Why March27 World Theatre Day is celebrated?
It is celebrated to generate awareness about the importance of theatre arts. To showcase the important role artists play in the field of entertainment. It also talks about the changes theatre brings in people's lives. 
World Theatre Day was initiated in 1961 by the International Theatre Institute ITI. It is celebrated annually on the 27th March by ITI Centres and the international theatre community. Various national and international theatre events are organized to mark this occasion. One of the most important of these is the circulation of the World Theatre Day Message through which at the invitation of ITI, a figure of world stature shares his or her reflections on the theme of Theatre and a Culture of Peace. The first World Theatre Day Message was written by Jean Cocteau in 1962.
Ever since, each year on the 27th March (date of the opening of the 1962 "Theatre of Nations" season in Paris), World Theatre Day has been celebrated in many and varied ways by ITI Centres – of which there are now more than 90 throughout the world.
Today, ITI has more than 85 centers throughout the world. It also encourages colleges, schools, theatre professionals to celebrate this day every year with a lot of joy.
Theatre as an art form constitutes of performances done by actors or actresses presented before a live audience. It is about the experience that the performers give to the audience. Theatres have been part of our political, educational and social life for ages and have been a significant place to share ideas and ideologies to the public.
In 2020, Due to covid-19 outbreak, the ITI (International Theatre Institute) has decided to conduct the activities online. It is observed every year for the nourishing of the drama and fine arts.
Shortfundly – Short film filmmakers community platform design exclusive posters to celebrate and bring the joy back in online. Here you go.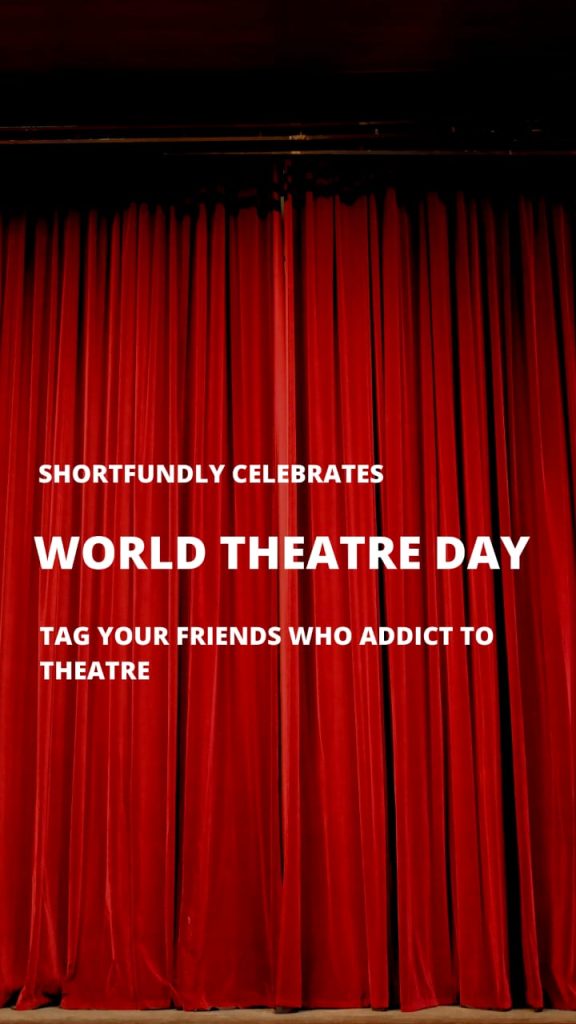 If you like these posters and designs, please share with your friends and family to support independent artists and independent filmmaking careers.
Your support will change the independent filmmaker's life. Join with shortfundly and vote your favorite collections of short films.
About Shortfundly
It's an online technology and design-focused, data-driven platform company that curates and shares the best short films and stories through our global multi-platform network. Our video and editorial platform enables a global audience to easily discover, watch and share unique stories anywhere on their desktop and mobile devices.
Our vision is to continually grow the community of short film audiences to enable a wide and accessible market reach for short films and become the leading micro-cinema/short film platform.