When there was a call to Jessie, it's not how Jessie reacts to Karthik or how Karthik approaches Jessie, it's a wide driven concept that director Gowtham had seen it through Vinaithandi Varuvaya's vision. Moving away from conflicts and critics, the way the short drives us by giving back Gowtham's touch in the form of ARR music is just awesome.
Starting with Karthik, the lover boy on screen after 10 years of gap with a bit different look but still could engross the conversation. A man who falls for Jessie, at first sight, turned matured to build a film that could pick him up from being buried broken heart. And now still I could sniff out the same catch but with a covet to slip on someone's shoulder. When he was all devastated with his career and could not write further may be a writer's block, who else could he seek except Jessie?
When there was a reply "I love you, Karthick' and followed by this pitch
Enoda munathu kozhandha mari,…. Na un Pakure…..
Did Karthik expect this??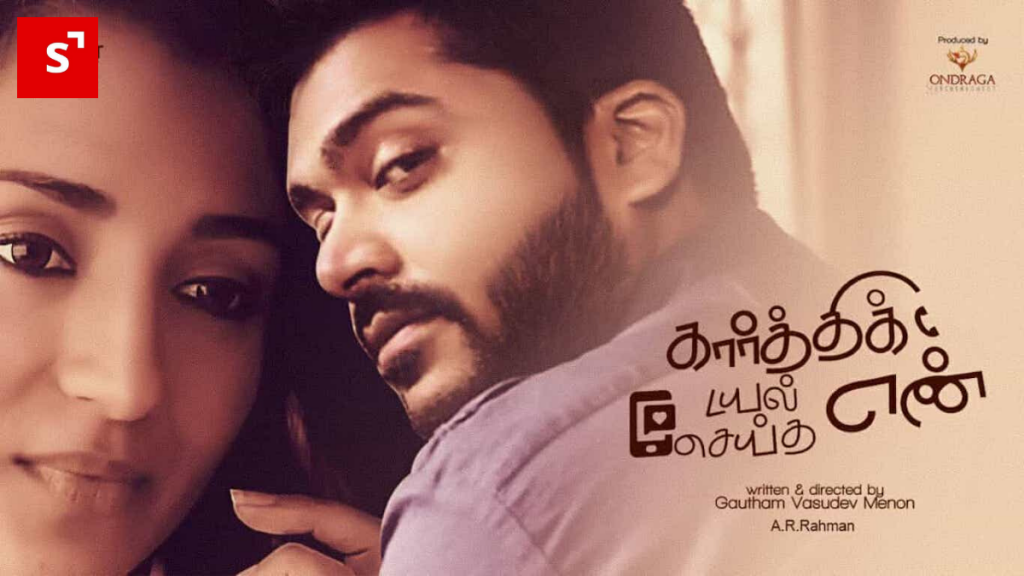 What else would be Jessie's answer? Moving on from past and while settled with the connecting present, that could only be the perfect matured answer back to Karthik. The call that could make Karthik write again was something more than love. The preposterous zone where Jessie had to stop running back to collect her shredded feelings and start to accept hardships in the relationship was shown extraordinary in this short. If that was a yes or a normal call to an ex after a long gap, that would have really misled the path of Vinaithandi Varuvaya. Well, then it could have been something different like super deluxe or a 96, which is quite acceptable, but not a Gowtham's touch to the film.
GVM has not stopped surprising us with different angles to love stories. The female lead in all his flicks had something important to do in the story. In the same way this anticipated feature film is also expected to deliver the role of Jessie in an ample manner. The rise in a heartbeat with ARR on the horizon brings goosebumps to GVM fans.
Moreover, the raw effect of the short film that has entertained us amid of lockdown was a surprise to us from the Vinaithandi Varuvaya family. This particular cut was very real abiding by the lockdown or the so-called quarantine guidelines were also very impressive.
This cannot be assumed to be a prequel for the expecting Vinaithandi Varuvaya II but as Gowtham has mentioned in one of his interviews that this short is a small scene in the movie.
Well, then there is something more to await from Gowtham by his fans. Looking forward to Vinaithandi Varuvarya II with these best combo ever.
Watch Now!
---
If you need to know more about short films or if you are an aspiring short filmmaker kindly visit Shortfundly, to know more about short films.
Want to review for your short film? Reach out shortfundly team. You will get a PAID short film review and FREE promotion from them.
---
Also read latest short film review by shortfundly team:
About Shortfundly
Shortfundly is an online media company that curates and shares the best short films and stories from India through our global multi-platform network. Our video and editorial platform enable a global audience to easily discover, watch and share unique stories from India anywhere on their desktop and mobile devices.
Our vision is to continually grow the community of short film audiences to enable a wide and accessible market reach for short films and become the leading micro-cinema/short film platform for India.
(Visited 3 times, 1 visits today)