Hi,
Our shortfundly team conducts a webinar with digitalgurukul to help better understanding of digital marketing & student entrepreneurs to build digital video ad strategies and share tips to increase brand awareness via video advertising for professionals & student-owned startups.
About Digitalgurukul:
It provides you with the most up-to-date and valuable Industry skills. Our aim is to create expert professionals by imparting practical and hands-on training on live projects.
We challenge your mentally an physical abilities to an extend that you overcome all your limitations and beliefs and enhance your skills and knowledge even beyond your own expectations.
At Digital Gurukul, our aim is not only to make you technically sound , but we also help you become a strong, positive, confident and a better individual.
About Shortfundly:
Shortfundly is an online technology and design-focused, data-driven platform company that curates and shares the best short films and stories through our global multi-platform network. Our video and editorial platform enables a global audience to easily discover, watch and share unique stories anywhere on their desktop and mobile devices.

Our vision is to continually grow the community of short film audiences to enable a wide and accessible market reach for short films and become the leading micro-cinema/short film platform.
Here's the video recording session for this webinar.
Posters about this webinar:
Event Objective:
How students, professionals pursue a career in digital marketing space?
How to build a brand for my own startup with video ads?
How to scale video ads reach to million users with an optimal budget in truecaller?
How to launch a successful video campaign in google using your existing youtube video?
Webinar Slides:
Event Location: (Virtual) – Digital Gurukul – Digital Marketing Institute
Letter of Appreciation to shortfundly: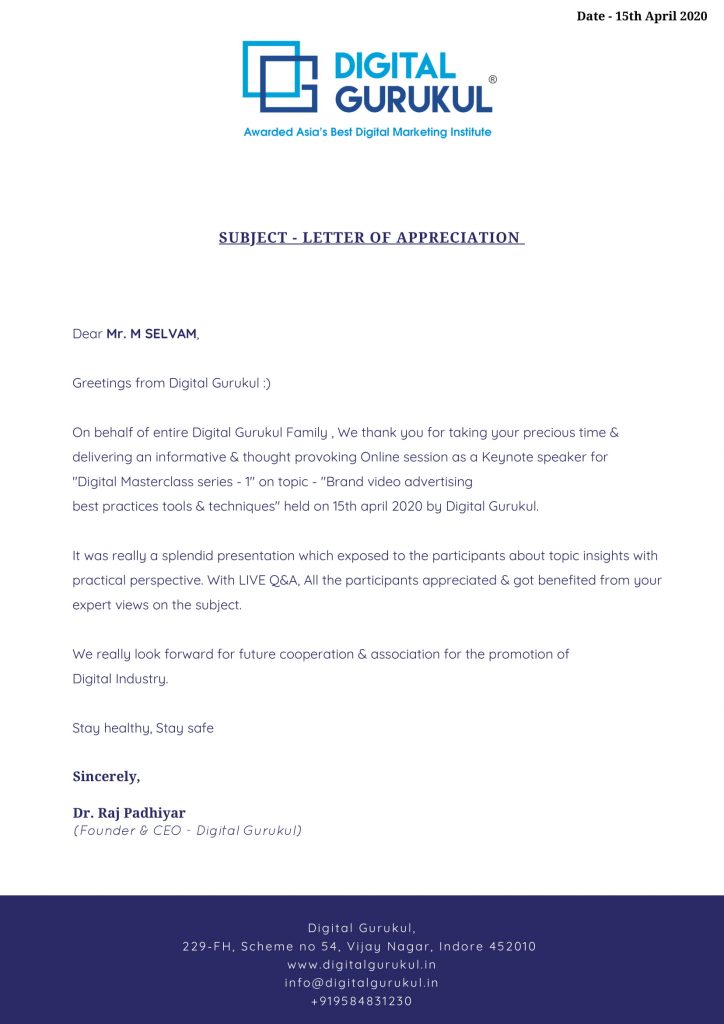 Connect with the speaker on Linkedin
---
If you like to do a webinar below topics
Startup story
Startup email marking techniques and tools
Bootstrap Startup experience and growth strategy
Video advertising growth techniques
Multiscreen video ad experience building tools
Digital marketing for freshers
Startup advertising best practices
Entrepreneurship journey in the media industry
How to grow a "platform as a service" business model?
How to avoid early-stage startup failures in a bootstrap startup?
How to form a bootstrap startup team and motivate them to achieve goals?
Hiring best practices for a bootstrap startup
How to make your virtual team to give more productivity in a bootstrap startup?
Top tips for Startup PR.
How to build and get the startup community for your product?
We will be happy to join you and ready to run a webinar on these topics. Feel free to contact a shortfundly team.
Note:
We are doing this in the paid and free webinar model. It's all case to case basis.
Resource allocation to webinars based on availability.
Terms and conditions apply (*)
---
Recent Free Webinars from shortfundly
Paid Webinars from shortfundly