Shortfundly happy and proud to associate with CEA Fest, IIT Madras event. Great energy with great IIT Team. #shortfundly and #CEA2018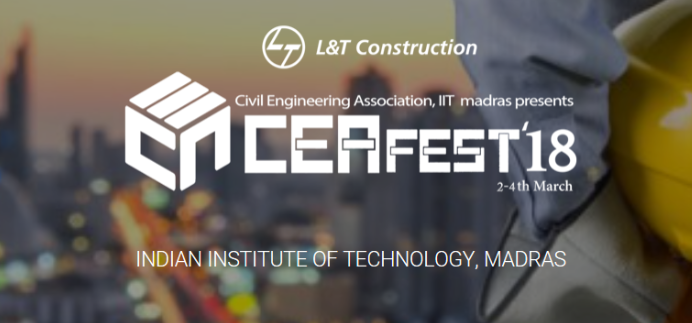 CEA Fest is the annual technical festival of Department of Civil Engineering, IIT Madras. It is one of the most prestigious departmental fests in the country. With a footfall of more than 2500 students CEA fest has grown in leaps and bounds over the years. It is a student contest that test the knowledge and practicality of young potential civil engineers of our country. CEA fest is mainly known for its professional discipline that deals with designing, planning, construction and management.
The civil engineering association is a platform that unites under-graduates, research scholars, faculty and staff members of the civil engineering department of IIT Madras, in their endeavour to make learning civil engineering with passion and excitement. "Inspiration", "Interaction", "Innovation" are the buzz words of CEA, organized under the stewardship of student secretaries and facilitated by the faculty conveners. CEA exposes the students to the challenges in the civil engineering profession through industry and interaction. The Civil Engineering Association conducts activities throughout the year, encompassing a variety of skills and interests. Under the aegis of CEA, a number of invited lectures are organized from leaders in Civil Engineering profession and our alumni in different stages of their career. Several activities are organized to introduce freshmen to Civil Engineering problems. Debates on topics of current significance (the "Big Fight") and quizzes are regularly conducted. The CEA Fest a 3-day event conducted in the month March, is the flagship event of CEA, which witnesses wide participation from engineering colleges and industry partners from all over India. The CEA Fest is replete with inter-collegiate contests ranging from model making, automation, quizzes and debates. The CEA Fest also provides a forum for showcasing current research and development projects underway in the different streams of Civil Engineering Department of IIT Madras. "Contour" is a magazine that is annually released on the occasion of CEA Fest and contains contributions on technical and non-technical topics by the students and the faculty members. The activities of CEA provide a rare opportunity for the students to take on challenges of planning, coordinating and implementing small, medium and large-scale events for different audiences. They provide a medium for the students to interact with and learn from key players in the industry and attune themselves to the proficiency that provides an opportunity for the industry to build stronger ties with the academia, through the students.
This year CEA fest returns with much more vigour with technical and creative events which will leave you amazed wanting for more. Mark your calendars from March 2nd to March 4th, 2018. CEA fest is a kind of fest, that any Civil Engineer with passion and enthusiasm towards this field would like to attend. CEA fest will keep you immersed in a wide range of competitions, challenges, workshops and expos that possess a comprehensive understanding of technical elements of Civil Engineering. This is the place where most brilliant minds of the country converge under the banner of Civil Engineering and gives opportunity to shape and manipulate the world we live in and one can make the best use of this experience.
Events list: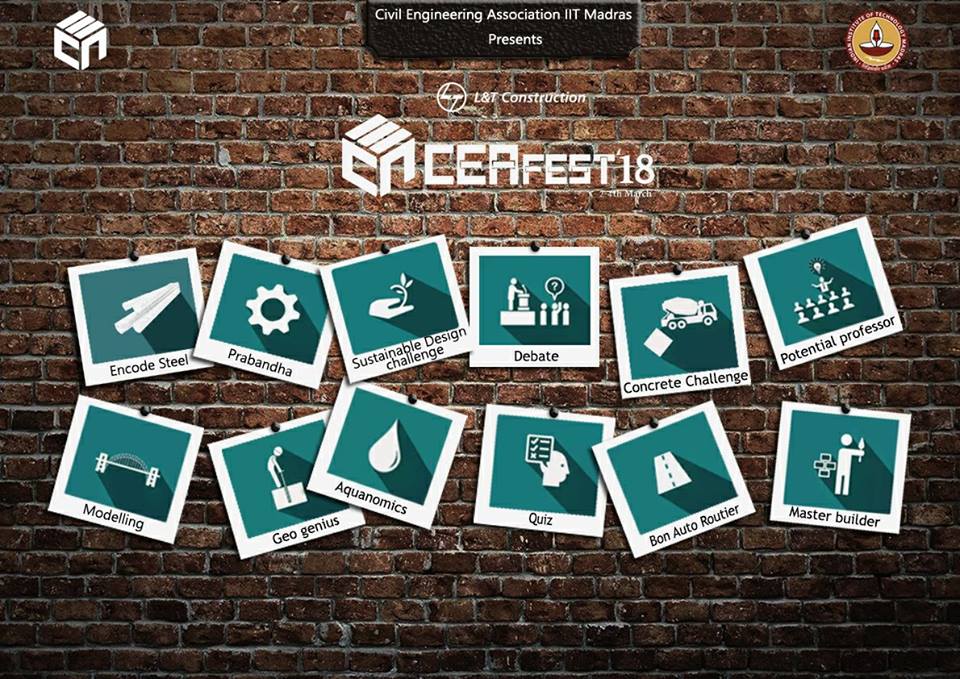 Shortfundly happy and proud to associate with CEA Fest, IIT Madras event. Hope you see you all. Come and get surprise gifts from this event. Will meet you there in event venue. #shortfundly and #CEA2018
Follow event details from IIT team:
Join with us on this venue: