Being at a film festival reminds me of the power of film. The power that we have in our hands. Telling specific stories about personal matters can start the debate that is needed today, and that connects you with the realities that you had no idea were connected

-Diego Luna
A film festival is an organised, extended presentation of films in one or more cinemas or screening venues, usually in a single city or region. Increasingly, film festivals show some films outdoors. Not only it connects people with the world around them but also it helps them to know about the various issues and stories around the world. Attending a film festival is like entering a whole new world of imagination only difference being, here you can record it and save it forever in your little heart.
Here's the list of 6 film festival events from filmfreeway:
Jehlum Short & Long Film Festival:
It's a festival with the specific goal of supporting and promoting photography and fresh filmmaking talent. It is a festival where films from a wide spectrum intersect. Having a film in the festival is one of the most exciting experiences you can have with your short film.
In the past editions, they have screened Oscar nominated movies as well as underground cinema. They are looking to create a unique experience around film by presenting movies that entertain, surprise, and break the stereotype that world-class cinema can only be experienced in big cities.

It curates and screens the best of all shorts across the globe. They are also in process of launching an e-magazine to feature all the shorts and its makers in the magazine to inspire other film makers to create more and more short films. They also showcase audience reactions.

Mumbai Shorts International Film Festival:
In the highly competitive age of cinema 'Mumbai Shorts International Film Festival' is the platform for short filmmakers to put their work forward among the league of professional.
MSIFF, a progressive cinema movement started in year 2012 with the consultation of senior industry members to highlight the short cinema. The 2012 inaugural year followed 2013 to 2019 editions witnesses the great participation & enthusiasm from filmmakers & industry professionals from India & abroad. The festival objective is to contribute towards the development of upcoming filmmakers & to create short films culture in India.
The festival aims is to feature great cinema of worldwide filmmakers in a big way & at the same time providing professional networking & introducing current trends of cinema to the participants. The festival also strongly advocates the need of commercial short film industry in India & will raise the issues related to short films in front of various governing bodies of cinema.
9th MSIFF-20 will prove one more step towards achieving excellence & enhancing your skills in cinema & fore sure it will contribute immensely in your growth as filmmaker.

​When a filmmaker makes a film, he does it with loads of love and passion. We respect that. We like to value it as much as we can. No film is of a lesser quality to us.

BUDDHA International Film Festival:
The main objective is to provide the opportunity for filmmakers from all over the world (INTERNATIONAL / NATIONAL) to excel by accepting all genres, and to have the best work selected and showcased in a celebration of cinema, as well as to give filmmakers a platform to network amongst fellow professionals and cinematic artists. TBIFF is looking forward to fostering these relationships and to helping extraordinary filmmakers get their projects seen by global audiences. TBIFF unites cinematic, cultural, educational more over Inspirational objectives by presenting its film discoveries. The TBIFF is dedicated to showcasing new and innovative films while fostering the next generation of filmmakers. It is a strong advocate for social change, and encourages cultural diversity and understanding between nations. It strives to foster the movie art of all continents by stimulating the development of quality cinema and promoting meetings between cinema professionals from around the world. It's dedicated to showcasing the spirit, passion, and skill of the best new filmmakers from around the world for audiences around the world. We are also including and actively supporting not only the finest examples of classic moviemaking, but works that are experimental, breaking ground in new non-narrative forms and crossing over into the video arts. All films will be reviewed as they are submitted, and the best in each category will be chosen to screen at the festival. A jury of industry professionals will then view the finalists and choose the winning selections.

---
Shortfundly annual film festival event 2020:
Short films have emerged as a universal experimental platform for both professional and amateur filmmakers alike. With the proliferation of high-quality digital technology at relatively low prices, every film enthusiast wants to embark on film making and short films are the first stepping stone in that effort. You've chosen to film. Chosen to put together a visual piece of art if we may say so.
SFAFF(Shortfundly Annual film festival) is the unique event in India which showcases talents to short film making. It is the only annual International Short Film Festival happening in India with awards in all categories.
Additionally, Whoever submits your film to our festival gets the opportunity to stream in our shortfundly premium platform. It will help you to earn throughout life. Don't miss this golden opportunity. All the best for your efforts in filmmaking.
We are looking forward to reviewing your artworks and critically analyze the masterpiece in depth.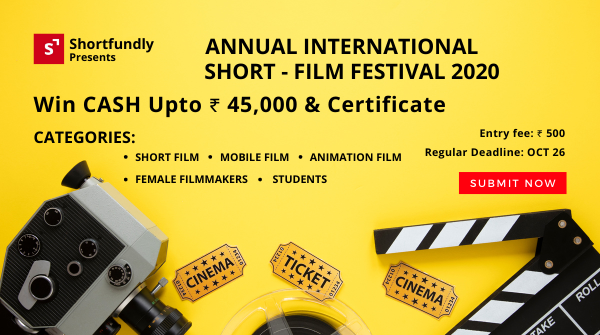 Why SFAFF?
We believe Awards and recognitions are not just honors which will feature prominently in a person's obituary. Rather, it shapes an emerging artist by giving more responsibility on their shoulders as a filmmaker. By hosting a diverse range of awards in the key departments of audio-visual media, we provide the best opportunities for emerging filmmakers, musicians, and photographers to receive such recognition. Also, SFAFF has no barriers to submitting films. The festival will showcase the worldwide submission of Fiction, Drama, Experimental, Horror, Human Rights, Religious, Sci-Fi, Women, Underground, Comedy, Asian, African, Adventure, or any genres in the art of visual storytelling.

About Shortfundly
Shortfundly is an online technology and design-focused, data-driven platform company that curates and shares the best short films and stories through our global multi-platform network. Our video and editorial platform enables a global audience to easily discover, watch, and share unique stories anywhere on their desktop and mobile devices.
Our vision is to continually grow the community of short film audiences to enable a wide and accessible market reach for short films and become the leading micro-cinema/short film platform.
Please visit http://www.shortfundly.com to learn more about us
Also read latest posts from shortfundly: