Storyline:
"Those we love don't go away, they walk beside us everyday, unseen, unheard, but always near, still love, still missed and very dear". This short film is all about sid and jaanu's cheesy love tale, promising to be with each other forever. But the storyline isn't that simple, the real story lies in the question "Did they keep up their promise?" This story line may look very simple and common but the way the team delivered the short film makes it a success. Convincing the audience the short film is just a musical love story and then revealing the twist serves as a major advantage.
Direction:
Direction has a very large part in the success of a short film. It lies upon the direction team to convey a story line effectively. The direction team has done a great job in making the audience clueless of the forthcoming events. Finding love after our loved one died is very painful and difficult, but there is always someone who loves us truly and the short film has delivered the point strongly through the actress' characterisation. The direction team has made every scene realistic making the short film more emotional. The short film has well brought out this point to the audience.
Dialogue:
The way one expresses a dialogues is important .The understanding of the listener depends on how well we express it. This short film has well chosen its dialogues and has made the viewers feel the emotions of the characters. The first half of the short film is musical and happy while the second half is emotional. The change in mood of the short film is brought gradually without an abrupt change that could have spoiled a beautiful storyline.
Screen Play:
The short film has a good screenplay keeping them clueless of the follow up events in the beginning and making them curious in the later part. Conveying sid and jaanu's love story in a musical way works well. The climax of the short film emphasizes that not all promises are fake and there are people around us to make us happy even after losing a special person.
Neethone Eppatiki – Telugu Short film Posters: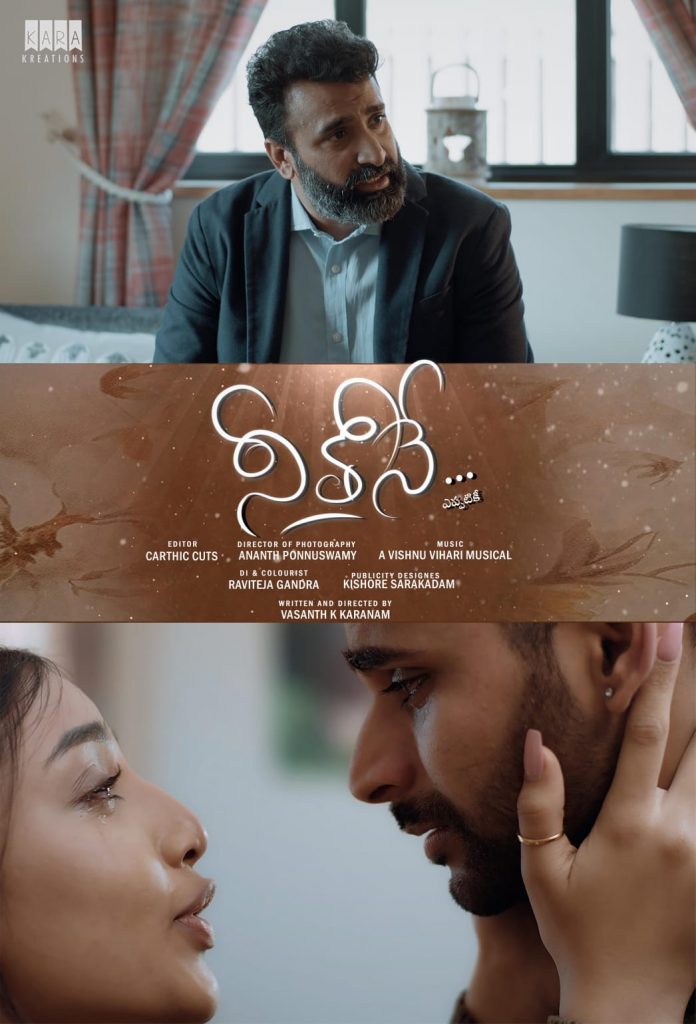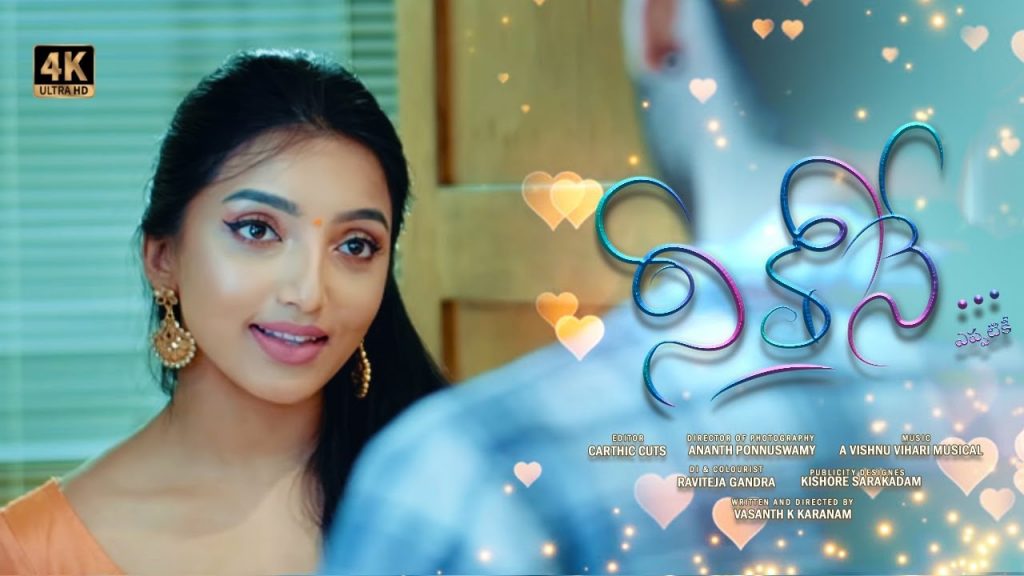 Neethone Eppatiki – Telugu Short film Team Details:
Cast:
Lomesh Pudipeddi (Lomiyo)
Ann Samuel
Surya K. Enjam
Guest Appearance
Vasista
Written and Directed By :
Vasanth K Karanam
Director of Photography :
Ananth Ponnuswamy
Editor:
Carthic Cuts
Music:
A Vishnu Vihari Musical
Producers
Vasanth K Karanam
A. Chakivela
Di colorist
RAVI TEJA GANDRA
Mix and Mastering
Hruday Charan
Abhyuday Chowdary (Merise kanula song)
Direction Team
Vasista
Ishika
Direction Team (Post Production)
JaiRam(Buggoji)
Posters,Titles & Vfx
Kishore Sarakadam
Focus puller & Camera technician
Ramu Thota
Production Manager
Saurin B. Shah
Dubbing Artists
Pranathi Swamy
Vishnu Vihari
Guru (Guest Dubbing)
Dubbing Studio
Madhuvanthi recording studio
Sound Engineer
Raju
Singers
Merise Kanula – Krishna Tejaswi
Happy birthday song – Vishnu Vihari
Lyricist:
Vishnu Vihari
Sound Effects:
Vishnu Vihari
---
Rating: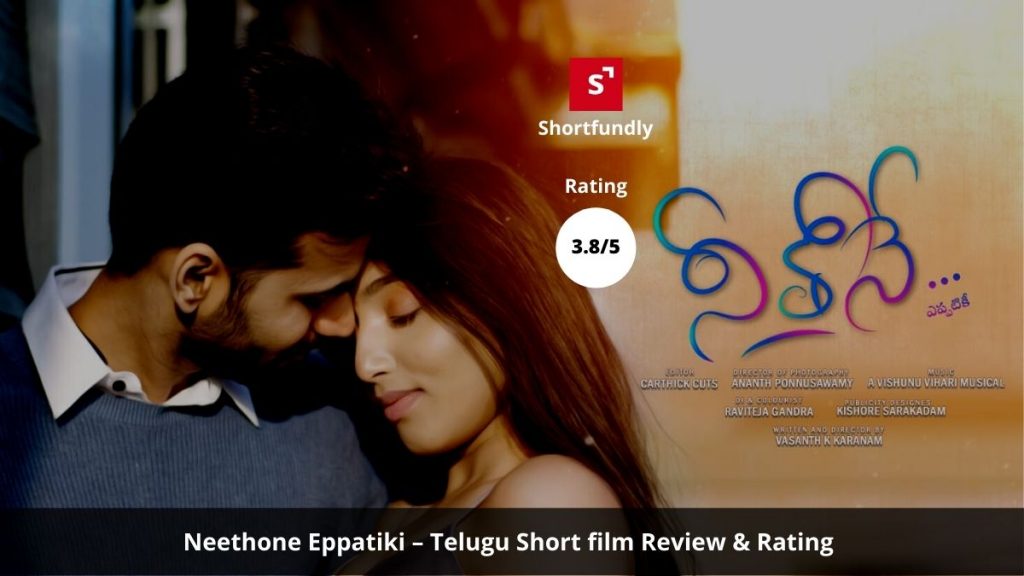 Overall rating – 3.8
0.8star for storyline
1.1star for plot twist
0.4star for background score
0.5star for direction
1star for effort
Watch this short film now!
Addon:
Watch Yennai Vittu Pogathey – Lyrical video song
Also Read Latest Shortfilm Reviews From Shortfundly:
---
About Shortfundly
Shortfundly is an online technology and design-focused, data-driven platform company that curates and shares the best short films and stories through our global multi-platform network. Our video and editorial platform enables a global audience to easily discover, watch, and share unique stories anywhere on their desktop and mobile devices.
Our vision is to continually grow the community of short film audiences to enable a wide and accessible market reach for short films and become the leading micro-cinema/short film platform.
Please visit http://www.shortfundly.com to learn more about us