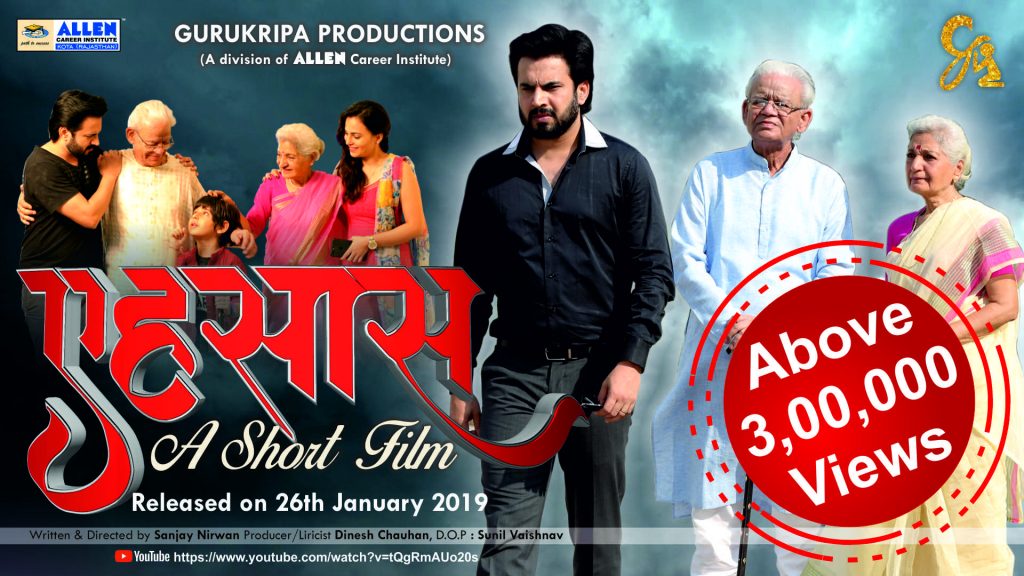 Ehsaas– A beautifully made film that inspires every one of us to respect & treats our parents with love and respect they truly deserve.
"We are so busy growing up, we often forget our parents are also growing old" – a wonderful saying that reminds us how aged parents often feel neglected and deprived of the love they so truly deserve. Conveying this unsaid emotion is ALLEN Career Institute's short film – Ehsaas.
ALLEN has always worked in the direction of inspiring its students and teaching them the importance of culture, values, and principles. Apart from imparting them with the knowledge given in books, ALLEN always ensures to teach them the most important lessons of life. And among such lessons, one imperative and most valuable thing is 'respecting parents'.
It is not uncommon to see grownup children leaving behind their parents in search of a better life and comfort. They think of parents as a burden and get rid of them by leaving them in 'Old Age Homes'. And while doing so, they never realize how lonely their parents become and how they long for their support and love.
The short film Ehsaasis a great reminder for all of us that our parents won't be there in our life always, they might be gone forever by the time we realize our mistake.
Our parents sacrifice a lot to make us succeed and reach a point in life where we don't need to depend on anyone. Their love is the purest and the most unconditional one, and we can never ever think of paying their debt. The only thing we can do is respect them, value them and treasure their presence in our lives with a full heart. They don't expect much from us, just an ounce of love, which is nothing in front of what they have done for us all through their life.
Ehsaasresonates the feeling of every parent who feels dejected & alone – it's a message to every youngster out there "On your journey of life, never leave behind your parents who made you capable of taking on this expedition called LIFE". 
Shortfundly keep support short films and share in all social media channels and using below hashtags
https://in.pinterest.com/pin/300896818855065531
#shortfilm #film #filmmaking #filmmaker #indiefilm #director #actor #movie #filmfestival #cinematography #cinema #producer #movies #photography #acting #films #love #actress #music #setlife #webseries #youtube #cinematographer #shortmovie #art #video #production #hollywood #writer #bhfyp
Explore more short films on shortfundly
https://www.shortfundly.com/browse